A Non-Profit 501(c)(3) Organization

Serving Northern California
and Surrounding Areas



If possible, would you consider donating a small amount more to cover PayPal's service fee?
Happy Tails -- 2014

Stories of Adopted Collies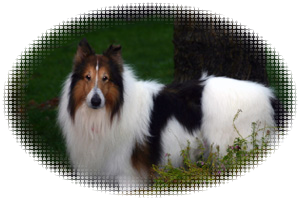 She came from Taiwan very emaciated and her muscles were atrophied. We thought she was young, because she was so small, but it turns out she is a senior girl. maybe 7 or 8, or possibly even older. She also had a mammary mass that we had surgically removed because it doubled in size in just 2 months. The good news is, she has gained all the weight she needs, and her muscles are much stronger. She can run and play, in her own silly Glory way. She is an amazing little dog, who has found the perfect, amazing home. She has a big collie sister named Ashleigh, who is around the same age. Both senior girls live on a small farm, with their stay at home furever Mom Pam. They get a variety of fresh food, like, scrambled eggs, pumpkin, carrots etc. along with their high quality kibble. And they sleep on fluffy sheep skin rugs! Glory just really loves all the new comforts she is able to enjoy in the US and she shows it by rolling all around in delight on her comfy beds and sheep skin.

We are so happy for Glory, new Mom Pam, and collie sister Ashleigh. Glory certainly has had a long hard journey home, but she has finally made it. We wish the whole family many years of joy and health.
Little Glory from Taiwan
January 2014

* NorCal Collie Rescue is California non-profit public benefit 501(c)(3) corporation C2798651 EIN 20-3381549.
Your donations are fully tax deductible.
Website Developed and Maintained by
Website to the Rescue



Jackson is so happy in his new furever home with Linda and Jerry. And his new fur- siblings Guido and Munchkin. Jackson is a whopping 90 pounds and little Munchkin is appropriately named, but they hit it off right away , and play almost constantly. Such a joy! Thank you Linda And Jerry for loving sweet Jack and providing him with such a wonderful home. He is an awesome collie who deserves it.
Jackson
Adopted February 2014

Vader's new Family
Vader went home with his new family Diane, Will Brandon, and their collie puppy Wendy. Wendy and Vader are a match in the play department. They both just want to run and play all day. Vader is almost 2 years old, and Wendy a few months younger. Lots of activity going on in his new home now, that's for sure. Vader has a touch of German Shepherd in him. 1/4 to be exact. He is smart as a whip, and learning great things at his new home. Daily visits to the dog park, lots of walks, and training sessions. He even has learned how to ring a bell when he wants to go out to potty! But this is how smart he is, he also has figured out that if he rings the bell, he can go out and play! So guess who keeps ringing that bell?! A big thank you to Vader's new furever family, and his foster Mom Margie.
Vader
Adopted February 2014

Baram's (Behr) Long Journey Home

Baram's name means wind in Korean. The Korean rescue named him that because they discovered that he enjoys putting his face in the wind through the window of the car. Baram was rescued just as he was being sold to the meat market in Korea. NCR was contacted and agreed to have him flown to LAX where he was met by our sister group Southland Collie Rescue (SCR). None of us knowing what to expect from this collie from so far away.

SCR cared for him for a week while we set up transport to us in No. Ca. The news from all who met him on his journey home was repeated over and over... "what a great dog" and "can I adopt him?" When he finally made it to his foster home, we were able to see for ourselves what everyone was talking about. A great dog indeed. He was already obedience trained, and seems to understand English! Not only that he is quite handsome and unique looking. A big stocky boy.

After meeting this beautiful soul, we cant help but wonder how he came to be at a meat market. But here he was, safe at last, and taking it all in stride. He was a trouper during all of the legs of transport it took to get him from Korea to No. Ca. And he loved each human, and animal he met along the way. Even spent his first night in the USA on a bed with several cats!

Here is what his new family has to say about their experience of bringing this wonderful guy, who they call Behr, into their lives.

"Well NorCal Collie Rescue has done it again. Just when I thought I could close my heart up after the loss of my sweet Scotch ( adopted from NCR) they had to show me a picture of Baram (Now Behr) from Korea of all places. So I talked to my husband John, the collie whisperer, and told him Baram's story. He said and I quote "he needs us".

I called Karen right away and she was very happy to hear that we would like to adopt Baram. Needless to say he has become a wonderful member of our family. He was a bit shy at first, but soon Shiloh (also adopted from NCR) would coax him outside to play chase. Shiloh was very depressed when we lost Scotch. She wouldn't play or run around. She would even go to bed before it was dark and not spend time with us. I was really worried about her. We adopted Scotch and Shiloh who were a bonded pair, a few years ago. But now, because of her new brother Behr, Shiloh is herself once more. They truly love each other. They run, pay and share toys. Behr even likes to sleep right next to her and licks her sweet face. It looks like true love.

So thank you again NorCal Collie Rescue, for helping me to keep my heart full and letting us love and treasure both Behr and Shiloh. "
John and Catherine
Behr (fka Baram)
Adopted April 2014

Doug is enjoying life in his wonderful new home. His family has had several collies, and have missed them dearly. Their Blood hound mix Buster has been sad, missing his senior collie BFF but now is happy again with his new BFF Doug! They adore each other already. And they are about the same age, so make perfect play mates. We love it when we find the perfect match home. We call it Collie magic!

Congratulation Nancy and David, we wish you years of happy trails and wagging tails. And lots of collie love from handsome Doug.
Douglas
Adopted August 2014

Ruly, now named Oliver was adopted September 2014 to a lovely young family. Ollie now has two sweet little girls to love and romp with. His new Mom takes him jogging every morning. Dad loves to take him on trips to the beach with the girls. He and they could not be more happy.

Congratulations to Oliver and his new family!!
Oliver
Adopted September 2014

Lucy aka Penny
Adopted December 2014

Bonnie
Adopted March 2014
Cassie
Adopted March 2014
Gracie
Adopted March 2014
Sundance & Cassidy
Adopted October 2014
Shiloh III
Adopted September 2014