A Non-Profit 501(c)(3) Organization

Serving Northern California
and Surrounding Areas



* NorCal Collie Rescue is California non-profit public benefit 501(c)(3) corporation C2798651 EIN 20-3381549.
Your donations are fully tax deductible.
Website Developed and Maintained by
Website to the Rescue



NorCal Collie Rescue's Senior Sanctuary



Find out how you can help these most needy of all collies....

NorCal Collie Rescue has the ideal that we "leave no collie behind". We feel that it will be a sad day when we do not have enough resources to help every needy collie brought to our attention. Yet a growing number of collie rescues across the country are finding that they must refuse help to any collie over 8 years old or a collie that has a special need of any kind or short life expectancy, even if their quality of life could be high if placed in the right home.

The reality is that many of our collies come to us at an older age or physically or mentally challenged, for many reasons. Some of our oldies have elderly owners, who must relinquish them when they become too ill to care for their dogs--not a few collies come to us when their owners die. Other senior collies are abandoned in shelters when their medical needs become too burdensome for their owners. Other collies were dealt a bad hand for reasons no fault of their own. Most of these dogs relinquished to shelters face certain euthanasia.

At NCR, we strive to leave no collie in a shelter, no matter how unadoptable. At times, we find old, sick, fearful, and otherwise suffering collies in shelters. When we can, we remove these collies from shelters and provide the most loving and comfortable euthanasia possible, if their suffering is too great or their quality of life too low.

However, some of these collies clearly have some time left and potential to make the right person a wonderful pet. Yes, they are old and creaky, or handicapped, or challenged, but they are not permanently sick or suffering. These collies still have time and opportunity to bask in the sun, lie in front of the fire, take their daily walks, and enjoy pets, scratches, cuddles, and a scrumptious meal. With a clean environment, some basic health care and nutritional support, often the senior Collies begin to lose years and problems as their health improves and they thrive with abundant love, surprising us all.

Because many of these collies cannot be offered for adoption for one reason or other, we have started the Sanctuary Program. NCR will provide financial support to foster homes for palliative care, that is, medical support to increase their comfort and quality of life but not to "cure" them of their ailments. NCR can also provide supplies such as dog dishes, pooper scoopers, and dog food, if needed.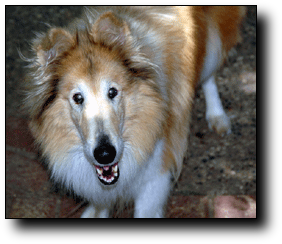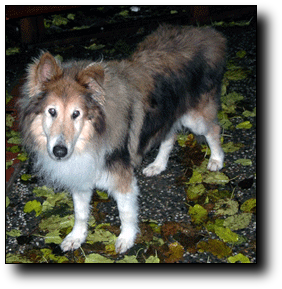 We welcome any volunteers who can provide permanent foster homes for these challenged collies,
who surely deserve the best rest of their lives as we can humanly offer them.

Can you help?
NCR Sanctuary Program: Explanation and how to qualify


Purpose: The NCR Sanctuary Program allows permanent foster care for unadoptable dogs owned by NCR.

Summary:

Dogs may be unadoptable because of either age or physical health reasons, which might be perceived as undesirable by adopters so that certain dogs will be difficult or impossible to adopt out. Dogs that are unadoptable for behavioral reasons, in particular for biting or aggression, do not qualify. Dogs that have physical problems that can lead to non-aggression types of behavioral problems such as anxiety disorders may qualify for this program.

NCR agrees to support financially within limits the special health care needs of dogs in the NCR Sanctuary Program. NCR will continue to own these dogs for the rest of the dog's life.

The NCR board of directors must approve candidates to enter the NCR Sanctuary Program.

Under the Sanctuary Program, unlike an ordinary foster home, the fosterer may make all decisions concerning the health care of a dog in the program, but cannot expect to receive more financial support than approved by the NCR board.

Qualifications:
Dog:


•
Dog is 10 years or older OR Dogs under10 years have a life expectancy of less than 2 years (exceptions can be made with board approval.)

•
Dog has good expected quality of life for most of its remainder, provided some palliative health care needs are provided.

•
Dog has no behavioral problems resulting in it being a danger to other animals or humans.

•
Adoption of this dog is unlikely through the normal NCR adoption program.

Human:


•
Foster home passes a normal NCR home visit;

•
Fosterer cannot afford or does not want to contribute the costs of special long-term palliative care.

•
Foster home can provide good quality of life for this dog for the remainder of its life and is qualified to do so.

•
Fosterer can be a core NCR volunteer or anyone meeting the above criteria.

Costs:


•
NCR will contribute costs up to $1,300 per year, for palliative care, food and other living supplies. More funds may be contributed with the approval of the NCR board, on a case by case basis.


•
The fosterer is free to make any decisions concerning the care of the dog, but must absorb any costs above and beyond that approved by the NCR board for palliative care.
If you are unable to foster a sanctuary Collie, please consider a financial contribution to help support their foster care.

A donation can be made through our secure PayPal account
or you can mail a check payable to:
NorCal Collie Rescue


274 Redwood Shores Pkwy. #210
Redwood City, CA. 94065

All donations are tax deductible as law permits.
A dedicated volunteer from another breed rescue found Lucky in the sick bay of a high-kill, crowded shelter, one dark and stormy December night right after Christmas. A volunteer went the next day to pull him from the shelter, to the noticeable gratitude of the attending animal control officer, who knew that she would have to euthanize him otherwise. He was picked up as a stray on December 21, wearing his collar and tags. The shelter contacted his owner, first by phone (but the number was disconnected), then by letter (which was never answered). We wonder if Lucky's elderly owner died, leaving him to fend for himself, as happens all too often. Yes, the name his owners gave him is "Lucky"... and we hope that name is fitting.

How this ancient collie could be a stray, we cannot imagine. He could barely stand, much less walk, when we got him. He was filthy and severely matted everywhere. He looked like he had not seen a bath or brush in years. His teeth were so encrusted with tartar they were not recognizable. His eyes were cloudy and his two hind legs just barely functioned to propel him along. On that first night, his foster person spent 3 hours grooming him. He lay with his head on her knee as she groomed him, while they sat together on the floor. The brushing clearly felt good and he quickly fell asleep. Yet after his grooming, she found that he could not really stand and appeared to be incontinent. She resolved to take him to the veterinarian the next morning to send him to peace--at least he would spend his last night warm, clean, dry, and with a good meal in his stomach.

The next morning, Lucky was, well, better! And each day he got better yet. Months passed with Lucky thriving and doing better than ever in his foster home. He always had a hearty appetite and insisted on his daily walk, which got getting longer and longer. He would follow his foster mom around, hoping for hugs and scratches. He knew his name and perked up when he heard it and come when he was called. He was a complete character, very opinionated! When he was done with his meal and there was still food in his bowl, he would bang the bowl with his head to get it out of his sight. He loved to "chase" and retrieve a ball, if you bounced it in front of him and didn't roll it away too quickly. He was SO proud of himself when he caught it and brought it back. He must have been the world's cutest puppy, some time long ago.

A little more than a year after we brought him home from the shelter, and living to see Christmas 2005, Lucky suddenly succumbed to congestive heart failure. His health wavered only in the last few days. He even took a last walk the evening before he died. He slept peacefully wrapped in blankets that night, but in the morning he could not get up. We were blessed to share his last year with him.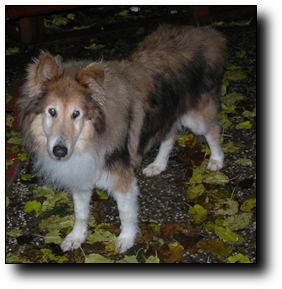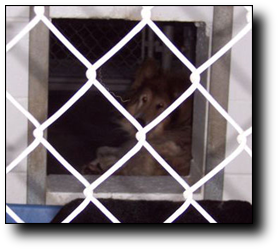 The founder of our Collie Sanctuary Program:

Lucky
1995-2006
Lucky after his bath!
Lucky peering out of his kennel in the shelter sickbay, one dark, cold, stormy winter night.

Meet Our Sanctuary Seniors
[Click Here]

Meet Our Sanctuary Seniors
[Click Here]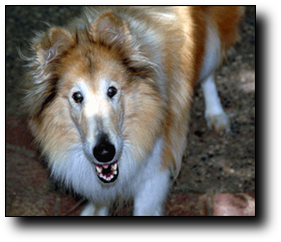 Sioux was confiscated in an animal cruelty case and held in protective custody until she could be released to rescue. She was definitely a senior, but we're not sure how old she is. When we first picked her up, she seemed completely blind, but after a week of eye medication, it's obvious she could see. Most of all, Suzi had an indomitable spirit. She was just packed with spunk and pizzazz, as you can see by the look on her face in this picture. She even ran on her walks, which she loved and looked forward to every day! She was a tiny little thing, full of energy and boy could she ever EAT. She came in weighing 32 lbs., and we quickly found out why she was so thin: Her mouth was full of rotten teeth, and she couldn't eat kibble. We fixed that and she became a chow hound, eating 3-4 times a day. She shared a curious habit with Lucky, in which she expressed her disdain for food we offered her by shoving her bowl with her head and burying it under dish towels or floor mats, anything she could find in the kitchen. What a character!

Sioux insisted on her power nap every day, and like any respectable senior she needed her beauty sleep, say about 20 to 22 hours per day. When she was awake she insisted on cuddling and following her foster mom around, sticking like glue.

Thanks to the donors for supporting Sioux in her hospice care. She was a charmer, beloved by all in NCR. We miss her! She died peacefully of old age, at last surrounded by those who loved her.
Sioux 1994-2006
Meet our Sanctuary Seniors

If you cannot foster a challenged Collie,
we welcome any financial contribution that you can make to support their foster care.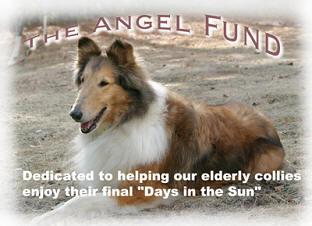 Send your tax deductible donation to:

NorCal Collie Rescue
274 Redwood Shores Pkwy. #210
Redwood City, CA. 94065

Write "Angel Fund" in the memo field
You may also donate directly to the Angel Fund using PayPal, by clicking the button to the left.
Please let us know if you donate this way, so that we can credit your donation to the Angel Fund.
Note on your PayPal contribution or email: info@calcollierescue.org.


Find out more about the Angel Fund -- Click here!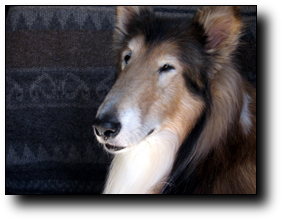 Frisco was found on the streets of San Francisco-old, matted, and alone. He has severe cruciate ligament damage, which contributes to his inability to move around, but that was not his biggest challenge that day. Frisco was so matted that his hind legs had literally fused together. He could not walk.

After NCR rescued Frisco, there was some debate-even though it is the absolute last option any rescue volunteer wants to consider-about whether euthanasia might be the kindest treatment. Sherry Luttrell, the AC for that area, thought otherwise. She cleaned him up, fed him a high-quality diet, and put him on medication to help his mobility. He responded to her love and care.

Ideally, every dog, no matter how old, will find his forever home. Frisco was highlighted on the NCR website as available and waiting. He waited and waited, yet no one came forward who was in a position to adopt an elderly dog with a medical condition. Thankfully, NCR has the Sanctuary Program, which is supported by generous donors who contribute to this cause.

In September 2010, Frisco entered the program. I became his foster mom. My home is now his forever home. I consider myself lucky to be able to spend this time with him. There's something about him that is so special-his kind, wise eyes; his quiet demeanor. Even my three other dogs quickly accepted Frisco as a respected member of the pack.
Frisco
March 2011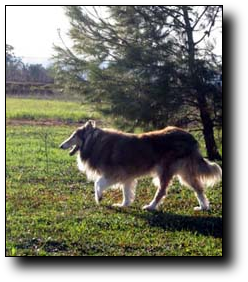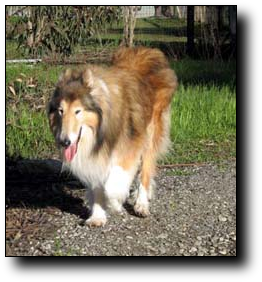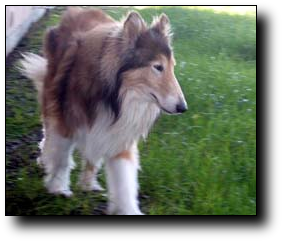 Old dogs need lots of care. Coming off the streets, Frisco needed even more. His coat was badly matted. His teeth were blackened. He needed X-rays to pinpoint the structural weaknesses that prevented him from standing on his own. Blood tests revealed he had a thyroid condition and a urinary tract infection. Therapy was needed to increase the mobility of his hind legs.

Today, Frisco enjoys sleeping by a window on a sunny afternoon. Although he needs help getting up over his feet, once there, he can meander around the yard, sniffing and marking his territory. At night, he sleeps on a giant bolster dog bed on the floor near me. I love looking over at him when he's fast asleep and watching his legs move as he runs in his dreams.

UPDATE: Frisco passed away in June 2011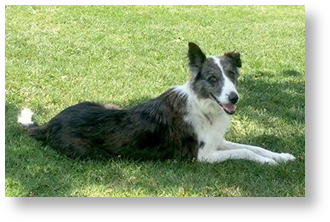 Kassie - RIP 2012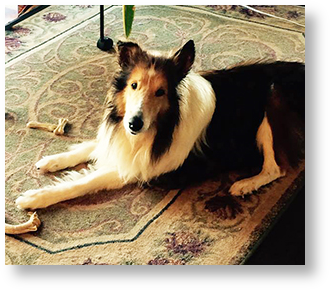 Captain Jean-Luc - RIP 2014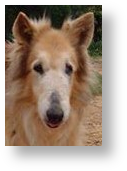 Celia - RIP 2014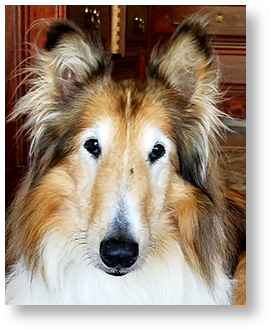 King - RIP 2017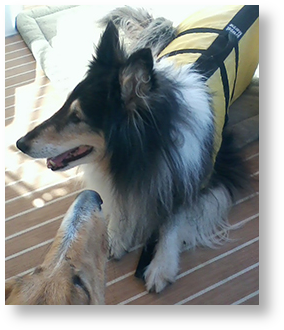 Mikki - RIP 2017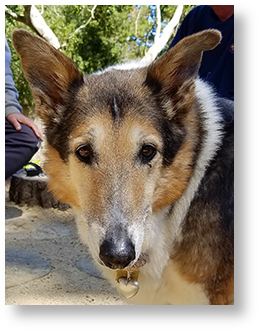 Maggie Mae- RIP 2018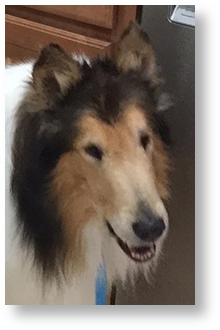 Big John - RIP 2018