A Non-Profit 501(c)(3) Organization

Serving Northern California
and Surrounding Areas



* NorCal Collie Rescue is California non-profit public benefit 501(c)(3) corporation C2798651 EIN 20-3381549.
Your donations are fully tax deductible.
Website Developed and Maintained by
Website to the Rescue



About Us

NorCal Collie Rescue was founded in August 2005 by collie lovers living throughout northern California. Some of us have been rescuing collies for many years, and members of our group of rescuers worked for other collie rescue organizations until recently. We came together in our new incarnation as NorCal Collie Rescue to serve northern California and adjacent areas of Nevada and Oregon, as the most comprehensive collie rescue organization yet to serve this region.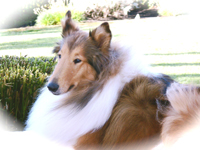 NorCal Collie Rescue is a public benefit non-profit corporation, California corporation number C2798651. NCR has received its 501(c)(3) tax-exempt status from the IRS, EIN: 20-3381549. All donations are fully tax deductible.

The aim of NorCal Collie Rescue is to rescue purebred collies in California outside the area covered by Southland Collie Rescue, from shelters, relinquishing owners, finders, or other sources, regardless of the age, state of health, or condition of that collie. We may also serve needy collies in adjacent areas of western Nevada and southern Oregon, but we do not adopt to those areas.
NorCal Collie Rescue welcomes any and all individuals and organizations sharing our goals and willing to abide by our by-laws to join with us to rescue and rehome collies. We also cooperate with and support all legitimate non-profit dog rescues within the state of California and beyond.

NorCal Collie Rescue may also provide aid to collies in other areas and in ways other than rescuing and rehoming them. NCR maintains close ties with our mentor organization, Southland Collie Rescue. We work with other 501(c)(3) Collie rescues to assist with home checks, transporting collies, foster homes and adoptions.

We also assist with rescuing and rehoming collie mixes and collies not handled by NCR on our Referrals Page.

We do not recommend or refer potential collie families to breeders. The Collie Club of America (CCA) and the Collie Club of Northern California (CCNC) provide lists of members in good standing.
To view our financial information, please see our information listed on Guide Star: https://www.guidestar.org/profile/20-3381549