A Non-Profit 501(c)(3) Organization

Serving Northern California
and Surrounding Areas



* NorCal Collie Rescue is California non-profit public benefit 501(c)(3) corporation C2798651 EIN 20-3381549.
Your donations are fully tax deductible.
Website Developed and Maintained by
Website to the Rescue



The Angel Fund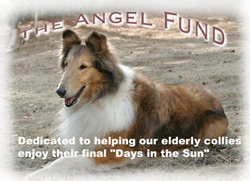 Angel had had a hard life, for sure. She was picked up by animal services when their truck hit her. She looked like a coyote when she arrived in collie rescue, with years of undercoat still there, full of dirt and foxtails. Yet, her sweet collie nature overwhelmed us all, and there was no doubt whatsoever that she would have the best rest of her life that anyone could humanly offer her. Count the love, not the years.
Quite often we will rescue collies that are elderly and others also in need of special medical care. Because there are reasonable limits on what we can ask regarding adoption fees for older and medically challenged collies, the adoption fee usually does not cover their medical expenses. To help cover these expenses so that we can save collies regardless of age and medical condition, we have set up a special fund to help these collies. It is called "The Angel Fund" and is named for Angel, one of our elderly rescue collies.

Angel came to collie rescue when a shelter worker contacted us about a purebred, elderly collie in the shelter, one he thought was too sweet to die. And was he ever right. Every volunteer who came into contact with Angel fell in love instantly. At a likely 11 years old, her chances of getting adopted were remote...but once you met her, well, let s just say that two volunteers independently came up with the name "Angel" for her.
This PayPal donate button
is specifically for the Angel Fund Donations
To make a donation to the Angel Fund account
Send your donations directly to NCR:
NorCal Collie Rescue

274 Redwood Shores Pkwy. #210
Redwood City, CA. 94065

Make checks payable to NorCal Collie Rescue
Write: Angel Fund in the Memo Section
Thank you!!
Donate through PayPal
NorCal Collie Rescue offers you the convenience of donating through your credit card. You will receive a tax donation receipt once your billing comes through to us from PayPal. For your information, PayPal takes 3% + 30˘ to provide us with this service.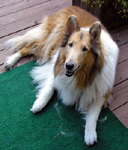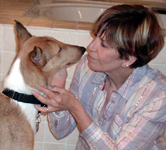 Meet two of our Angel Collies