NorCal Collie Rescue
NorCal Collie Rescue is a nonprofit corporation* founded by collie lovers who are dedicated to taking responsibility for collies at risk in northern California. Collies come to rescue from many sources, including animal shelters, death of the primary caretaker, people whose health has changed, breeders, divorce and many other circumstances.

Our volunteers take in and rehome collies in California, North of the Tehachapis. If you are in southern California, please contact Southland Collie Rescue. NCR will not ship collies or place them out of state, but we do collaborate with collie rescues adjacent to our area of coverage.

Please visit our About NCR page to learn more about our Organization.
Other collie organizations helping rescued collies in California: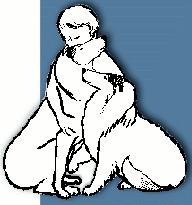 Collie Rescue Foundation



A Non-Profit 501(c)(3) Organization

Serving Northern California
and Surrounding Areas



* NorCal Collie Rescue is California non-profit public benefit 501(c)(3) corporation C2798651 EIN 20-3381549.
Your donations are fully tax deductible.
Website Developed and Maintained by
Website to the Rescue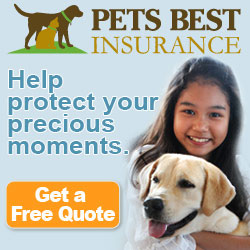 Get a Free Quote, and we get a Donation!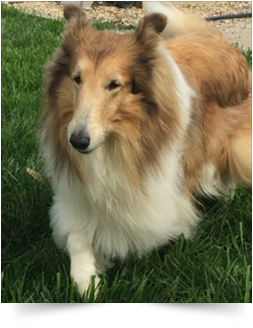 Featured Collie
THIS IS RESCUE - 2013

In March of this year we received a call from an owner that had purchased 2 new puppies the month before. During the 30 days of having the pups, the puppies started to lose all the hair on their head and feet. They developed infections and fevers. They had a mobile vet come to their home and the puppies were diagnosed with Demodectic Mange (Mites or Demodex). After hearing the prognosis on the puppies and the treatment required, the family made the decision to turn the puppies over to NCR. Two weeks later, we received another call from someone that had purchased another puppy from the same litter. This puppy also had demodectic mange, severe infections and a high fever. The original Vet that examined this puppy said it was the worst case of generalized demodex that he had seen in 39 years of practice.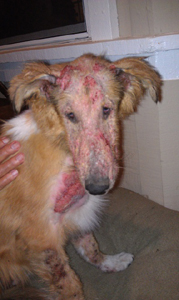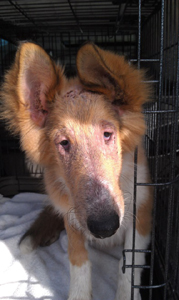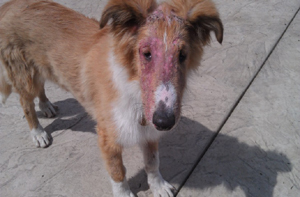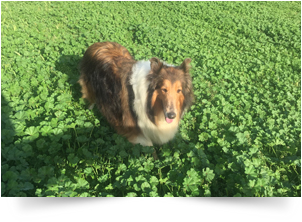 Day 1 In Rescue for these 3 Sisters:
Francesca, Fiona, and Samantha
We took in all three puppies and determined the puppies all had the MDR1 Mutant gene. This meant that they had drug sensitivity issues and could not be treated with Ivermectin (the ingredient in most medications used to treat this ailment). The safest, most effective drug that the puppies could use to cure the mange was Interceptor and it had been taken off the market by the manufacturer, Novartis. We felt our options for treatment of these sweet little girls was becoming more limited by the day. Where were we going to get the necessary meds for these girls? We decided to put a plea up on our Facebook page. Our plea was for Interceptor….did anyone have leftover Interceptor? Could people check with their vets and animal hospital to see if they had any surplus interceptor? Could people just spread the word about our need?....Until that moment, we were a sleepy little Facebook page with a few hundred followers. What happened next was an amazing miracle that was completely unexpected. The comments, questions, and emails were coming in so fast it took 2 and 3 people to respond to everyone. Our request reached over 13000 people in a dozen different countries. Everyone wanted to help! We knew it was a stretch but we set a goal to try and get 6 weeks' worth of interceptor for all three puppies. In two weeks we achieved that goal. We had one person coordinating with our Vet's office to get prescriptions for interceptor faxed around the country. Then they coordinated with dog lovers across the country to pick up the meds and ship them to us. We had 2 volunteers with a sister collie rescue organization driving to 30 pharmacies in their area to obtain the much needed meds. People sent in their own precious supplies. Meds were hand delivered to the puppies. But it didn't stop there, even the Novartis sales reps pitched in to help find the secret supplies of interceptor in their customers' inventories. Then some of the pharmacies got on board and just started calling around to their sister locations and having the meds transferred to a central location - which they are still doing today. Not only did we reach our goal - we received a 5 ½ month supply of interceptor for all 3 pups.

Several individuals donated the much needed funds to purchase these very expensive meds.

Treatment for these little girls began in their foster homes. Daily baths, daily swabbing of the infected areas with antibacterial wipes, daily meds, bi-weekly vet visits. All the while, dealing with all of their puppiness and trying to teach them manners. Ongoing training to act like ladies at the dinner table, teaching them to walk politely on a leash, and most of all reinforcing the fact that mom's favorite slippers shouldn't be their favorite toy and the living room area rug is not the bathroom. While they seemed to be on the fast track for healing the mange, other issues started to pop up that ultimately would set the healing process back a step or two.


Fiona, Francesca, & Samantha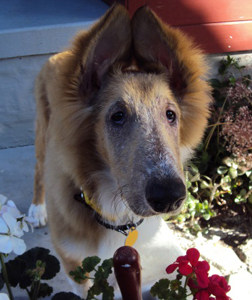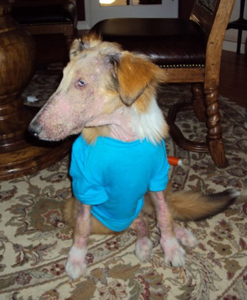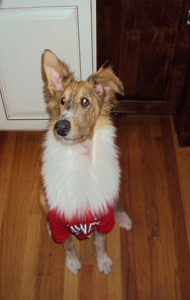 First, Fiona was looking the best. Her sores were healing quickly, her hair was growing back. One day, that all changed and everything was worse. Her foster Mom rushed her to the vet. They did a culture and determined that she had a MRSA staph infection. Now the drug protocol got even worse. The only antibiotic that would clear up the infection was chloramphenicol. Side effects can be bad for dogs and worse for humans as exposure of this drug through the skin can cause serious blood disorders such as aplastic anemia. Caution is required.

Then we realized that something was wrong with Frankie's vision. She has CEA (Collie Eye Anomaly) and is partially blind in her left eye and may have some overall depth perception issues as well. We can't fix that and she will and has continued to adjust to being visually impaired.

Samantha had dental issues as soon as we got her. The vet immediately noticed that her lower jaw was not growing proportionally to her upper jaw. Immediate extractions were required of all 4 baby canines to improve the chances of the lower jaw growing more. Unfortunately, this didn't have the needed effect and as the adult canines came in, the lower canines began to cause trauma to the upper palette. This created a "dental lock" which again impeded growth to Samantha's lower jaw. Samantha was seen by a Dental Veterinarian and it was recommended that her lower canines be cut and "pulp capped" to end the trauma and break the dental lock. Due to this procedure, Samantha's new family will have to be vigilant on her dental care throughout her life. She will need annual dental x-rays to ensure the canines and the roots are still healthy and strong. She will need constant maintenance and dental care because her tooth misalignment does not allow for the natural scrapping and cleaning of the teeth.

Total costs for all three girls ultimately exceeded $10,000!

Through it all, after 5 and a half months of treatment they were finally all deemed cured. Is it a coincidence that it took exactly the amount of time for these puppies to heal as the amount of meds that were donated for their treatment or was it COLLIE MAGIC?

All of the girls are now happy, healthy, playful and loving sweethearts that are on their way or will soon be settling into their forever homes.

Our hearts are full. This is Rescue.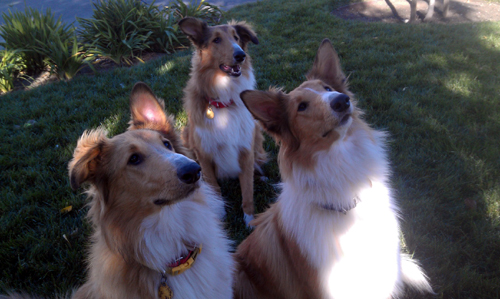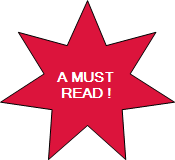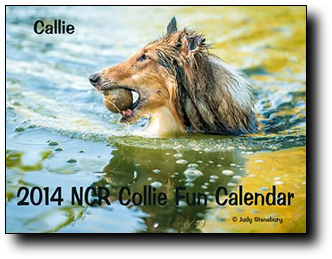 2014 NCR Collie Calendars


Still looking for that special calendar
to keep you organized through 2014?
We have seven collie calendars to choose from.
Calendars feature our gorgeous NorCal Rescue Collies
and Collies of Rescuers, Volunteers, and Donors.

Check out calendars and other cool merchandise at our onlineCafePress store. (http://www.cafepress.com/norcalcolliersq)

Available For Adoption
Lily


Lily is a beautiful, sweet lady. She is a typical collie, sensitive to
harsh words or tones and a desire to please you with her entire
being. She is approximately a year old, has been spayed,
micro chipped and has all of her shots.
She tested negative for HW.
[Click Here to read her Bio]